–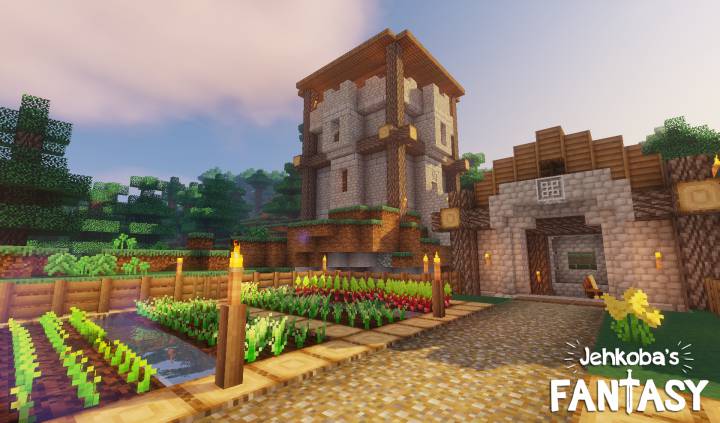 Jehkoba's Fantasy Resource Pack for 1.17.1/1.16.5 is a bright, vibrant and fantasy styled Resource pack. It comes in a very low resolution of 16×16 in this Resource pack. This Resource pack was started around an year ago and it has been updated frequently. It has a latest version of 1.15.2 and it was developed by Jehkoba.

This Resource pack will offer you some beautiful and peculiar textures, It will also change many things such as weapons, interface, armor and buildings. If you are bored and tired of playing standard looking textures than you can give this Resource pack a try and then it will be perfect for you. It has Vanilla 3D Models and variables for many and items that will include crafting table, ladders, doors and glass. This Resource pack text has also improved and changed to be with new textures and reflect to the themes. It was Originally created to be for Java edition and then it will have Bedrock and Pocket Edition.
Jehkoba's Fantasy Resource Pack Updatelogs:
Added Custom Font and Potato Crop.
New Wooden Trapdoor and Iron Gate.
Improved Book and Map Interface.
Fixed Iron and Gold blocks.
Added Dark Crystal and Crystal.
New Boats and Minecarts.
Added Carved Stone and Torches.
Added Jukebox and Music Box.
New Crafting Bench and Glass.
Cookies will be Brownies and they will have a new texture also.
Fixed Beacon and Mob Spawner textures.
New Packed Ice, Ice and Frosted Ice textures.
Screenshots:
Download Jehkoba's Fantasy Resource Pack for 1.17.1/1.16.5:
For Minecraft 1.17.1:
For Minecraft 1.16.4:
For Minecraft 1.15.2:
For Minecraft 1.14.4:
For Minecraft 1.13.2:
How to Install This Resource Pack:
Download Jehkoba's Fantasy Resource Pack.
Then just go and then open the Resource packs folder.
Open the folder where you have downloaded the file.
Copy the downloaded .zip/rar file and then go and open Minecraft.
Click on the options and then go and open Resource pack.
After it then open the Resource pack folder.
Then move the downloaded .zip/rar file into that folder.
You will also have to open and run Minecraft after placing the .zip/rar file.
Enjoy and have fun while playing this game.
Note:
We will recommend you to Download and install OptiFine HD or MCPatcher HD for this Resource pack.
Disclaimer:
We usually do try to take very good care of the downloaded links that are also available here. But occasionally developer of the Original download links remove their links from the Third party websites. In that situation we will require some assistance in this regard. So Please inform us if you find any broken links or content in the comments section. We will try to have the working links as soon as possible, We are updating these Resource packs regularly and If you find any broken or fake download links or deleted ones kindly comment and also let us know. We also do try to give all the genuine links for our contents.