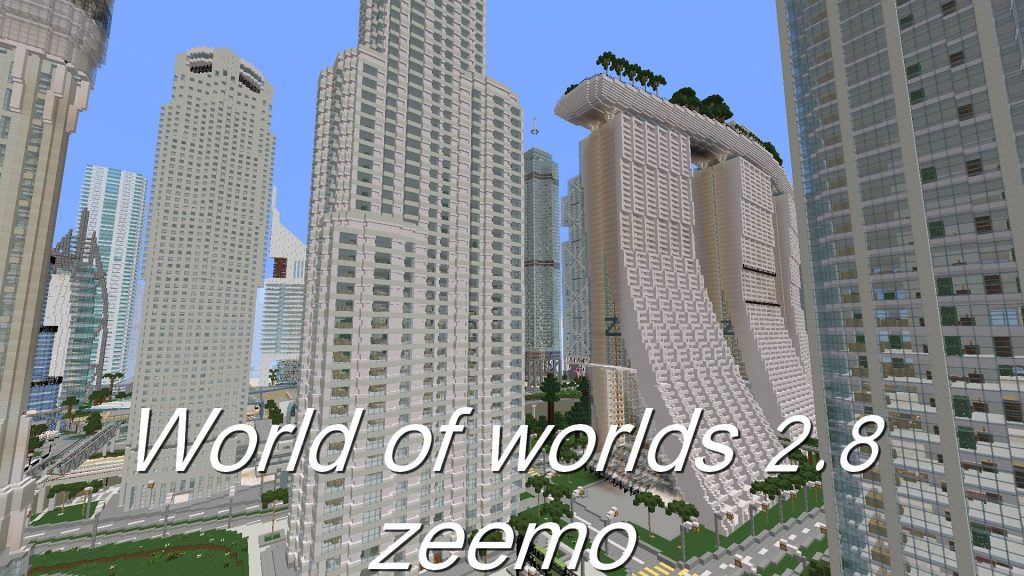 Salut les aventuriers, Zeemo nous revient avec une toute nouvelle mise à jour de sa map World of Worlds.  Dans cette version 2.8, pas moins de 6 nouvelles ville viennent compléter la map.  Retrouvez l'Alvear Tower de Buenos Aires, la Torre Mayor de Mexico ainsi que la Portside Tower de Le Cap. Admirez le travail réalisé sur la Tornado Tower de Doha, la Chase Tower d'Indianapolis, la Tokyo Tower à Tockyo ainsi que le World Trade Center de Mexico. Pour finir, faites un tour au Kingdom Centre de Riyadh. Je suis toujours aussi fan de son travail !
---
Caractéristique de la map :
Map de style ville à visite ;
Reproduction des plus belles constructions du monde ;
---
Photo de la map ville World of Worlds 2.8 :
Vidéo de présentation de la map World of Worlds 2.8 :
Faites un tour sur la carte de la map pour avoir un aperçu de cette immense ville -> MapCrafter world of worlds.