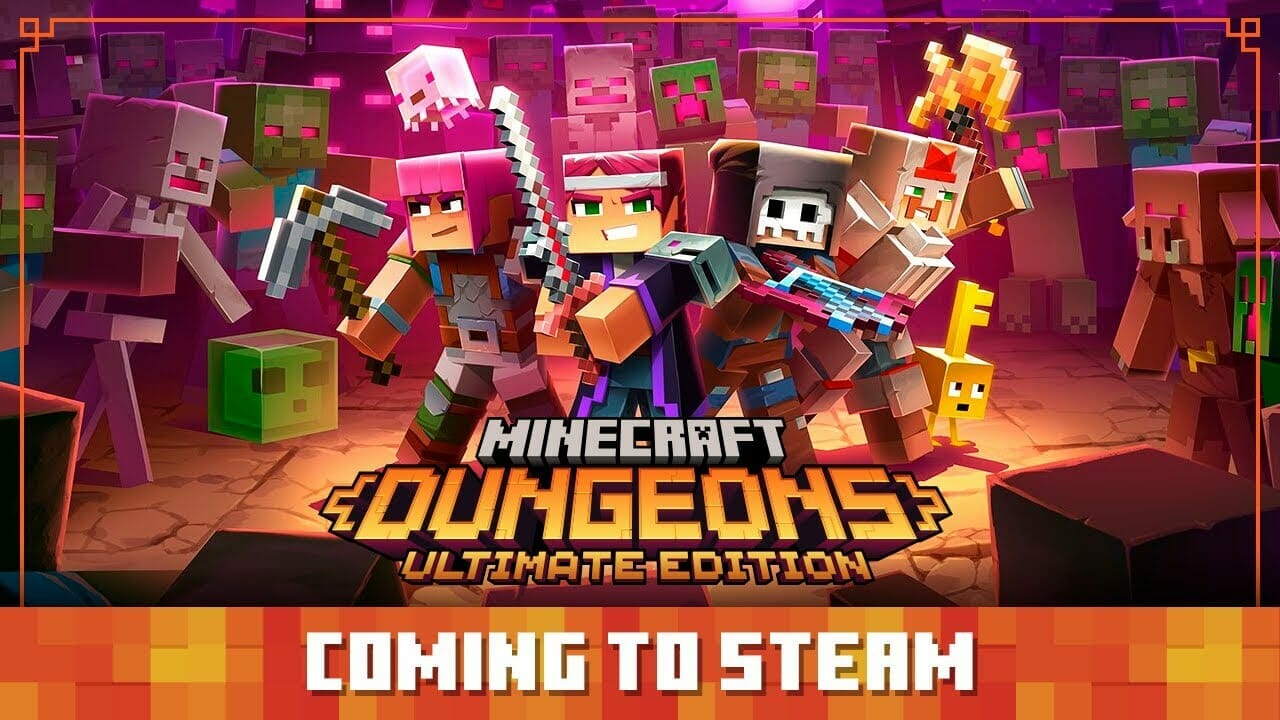 The dungeon crawler which was inspired by Mojang's survival game Minecraft is getting a release on Steam. That's right, Minecraft Dungeons to Get Released on Steam by September 22, 2021. If you have been a fan of this game, or have been waiting for it to get a Steam release then now would be the perfect opportunity to purchase it.
The game's official website offers a number of details about the upcoming release, including pricing and availability. The base game will be available for $19.99, while the Ultimate Edition, which includes the original game as well as all six expansion packs, will cost $39.99. It can all be yours on Steam.
A top-down action RPG called Minecraft Dungeons is a game in which you explore randomly generated rooms. While not exactly a multiplayer game, it is fun with duo mode. (Think of it as the Diablo for Kids.) Following its debut in May 2020, Mojang and Xbox Game Studios have continuously released updates that expand on the main game and add new locations to discover.
On August 31, the game's six battle passes — Hero Edition, Hero Pass, and Season Pass — will be discounted from digital sales and only available in retail outlets until stocks run out. "Players will still be able to purchase the same DLCs and in-game content that is part of the Standard Edition (game alone) and Ultimate Edition
Now, all of the content will be available on Steam and provide players with another method to acquire the game. Minecraft Dungeons is now available on Nintendo Switch, PlayStation 4, Windows PC, Xbox One, and Xbox Series X. Just make sure you have the necessary system requirements.
Minecraft Dungeons
Minecraft Dungeons is one of the most entertaining games you could let your child play, or you could play yourself. As you already know it is heavily based from Minecraft however the lore is not the same. It consists of tons of action and adventure. Being a dungeon crawler, you get to grind, fight and slay hordes of monsters and mobs.
You can also get loot and become stronger as you level-up and progress in the game. It has a wide range of weapons available in the game with varied capabilities and attributes. Minecraft dungeons also consists of special abilities which you can use during your battles.
Valve and Steam
The company Valve has become a point of admiration for gamers across the world, despite their various dislikes and biases. It's not difficult to see why. It's the business behind Steam, the world's most popular PC gaming platform, as well as a slew of enticing game sales. Half-Life, Portal
It may seem odd now, given their combative quality today, but Valve as we know it today would not exist without Microsoft. A Harvard University dropout named Gabe Newell spent thirteen years assisting in the creation of early versions of Windows. Naturally, working under Bill Gates and his crew gave him a wealth of knowledge about the software industry.
By 1996, Newell was seeking for a change. To make a change, he and his fellow co-worker/millionaire Mike Harrington sold their riches and created Valve LLC in August. They named it Valve, LLC, moved to Kirkland, Washington which is about five miles west from Microsoft's headquarters in Redmond.
Why a Steam Release Would Mean Much for Minecraft Dungeons
Steam has become one of the top distributors for video games all around the world. Truth be told that Minecraft became successful without Steam. But, Minecraft dungeons could get the boost it needs with a Major platform release as it's initial launch was not as good as expected.
On the other note, releasing the game on Steam might improve the overall game population and rate of people who play the game. Steam is known to have Millions of players play with their wide variety of games every day. By releasing on Steam, Minecraft Dungeons should hopefully get the recognition and player population that it deserves.
FAQ
Minecraft Dungeons Steam Release is on September 22, 2021
Minecraft Dungeons is Priced at $19.99. You can also purchase the Ultimate Edition for $39.99.
Processor: Intel CORE i5 2.8ghz or equivalent
Ram: 8GB Ram or more.
VRAM: 2GB
Storage space: 6GB
Graphics Card: A DirectX 11 card (GTX 660, HDD 7870 or better)
Monitor: A resolution size of 800×600
OS: Windows 10, 8 or 7 (64-bit with the latest updates; some functionality not supported on Windows 7 and 8)
Xbox One
Nintendo Switch
PlayStation
Windows