Runelic Mod 1.17.1/1.16.5 is a fresh breath of air in the mods league. Firstly, this tool addresses a totally different dimension that is fonts. Secondly, it will transform your alphabets and numbers into Runelic font. Similarly, it is hard to read for those who are not familiar with this font but it will be extravagant fun if you get yourself familiar with this font.

Screenshots of Runelic Mod: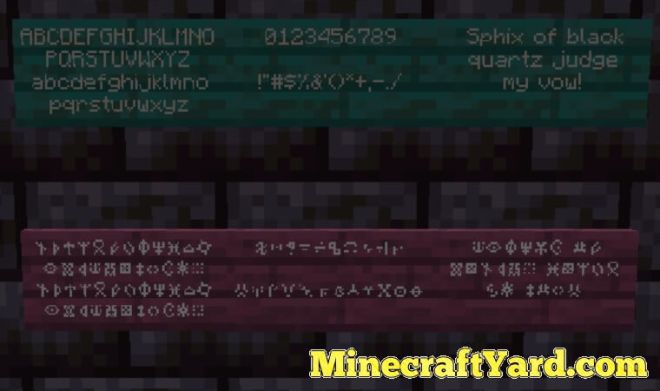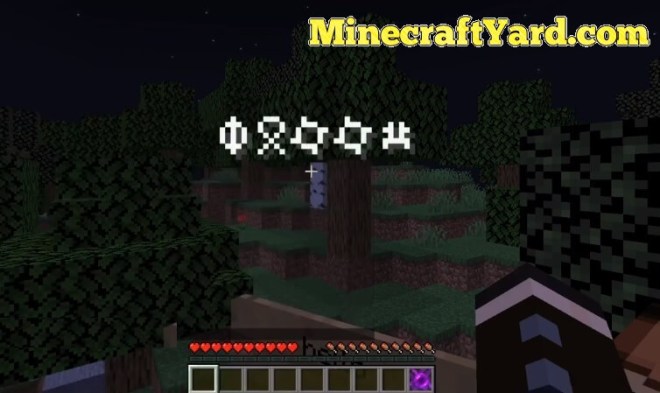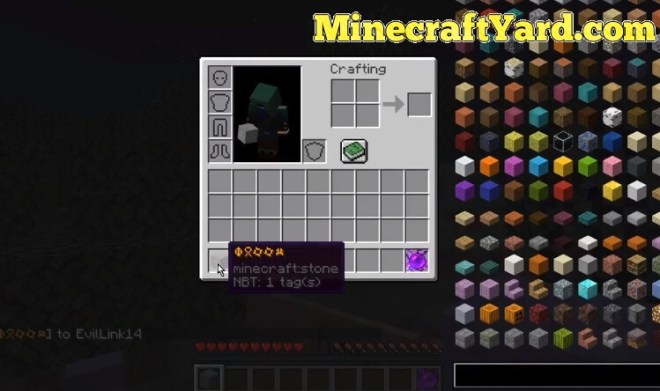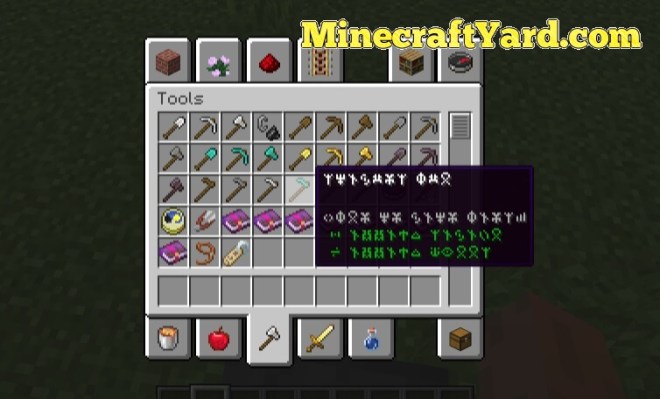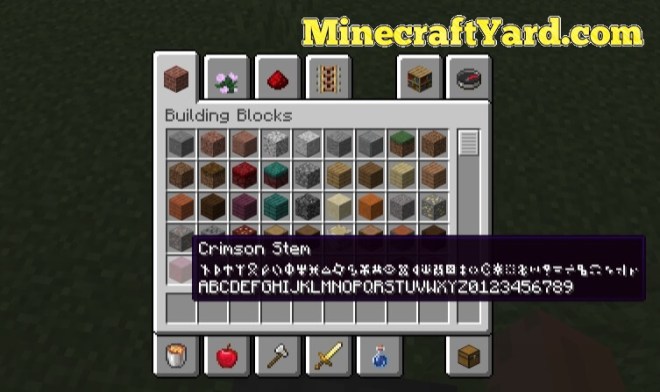 Furthermore, this modification allows you to transform the text into Runelic font and it can be applied on signs, books, tags, and tooltips. In addition to that, the Uppercase and lowercase alphabets will share the same design. There are some examples of this font in pictorial form that will help you to understand what you are going to experience in this tool. So have a great time using this tool and let us know your thoughts.
Runelic Mod 1.17.1 for Minecraft
For Minecraft 1.17.1
| | |
| --- | --- |
| Release Date: | 25th July 2021 |
| Version | 3.0.1 |
| File Size: | 4.10 KB |
| Supported version: | Minecraft 1.17.1 |
| Author: | MRHminer |
| Download (Direct): | Runelic Mod.jar |
For Minecraft 1.16.5
| | |
| --- | --- |
| Release Date: | 29th January 2021 |
| Version | 7.0.1 |
| File Size: | 11.02 KB |
| Supported version: | Minecraft 1.16.5 |
| Author: | MRHminer |
| Download (Direct): | Runelic Mod.jar |
Currently supported characters
include ABCDEFGHIJKLMNOPQRSTUVWXYZ abcdefghijklmnopqrstuvwxyz 0123456789 !"#$%&'()*+,-./
Runelic Commands:
/runelic say – Posts a message in chat with the Runelic font. All players can use this command. The plaintext version is logged in the server console.
/runelic hand – Renames the held item with Runelic. Limited to lvl 2 ops.
/runelic book (encode|decode) – Rewrites a held book to use Runelic. Can also turn Runelic books into plaintext books. Limited to lvl 2 ops.
/runelic tile (encode|decode) <pos> – Rewrites a tile entity such as a sign to use Runelic. Limited to lvl 2 ops.
How to Install Runelic Mod
The installation process requires concentration and minimal steps.
Adding Minecraft mod is a fairly simple process but you have to follow it carefully.
We are adding an installation guide for Minecraft Forge API mods so you need to check others for Fabric API.
The prerequisite of this mod is to download the Minecraft Forge API.
Afterward, you will require to Launch Minecraft Forge API through installer or launcher, either of them feasible for you.
Then you will need to Run Forge Profile in the game.
Now you will have to download the modification you want to play.
Moreover, put the downloaded .jar file into the mods folder which can be located at this address "C:/Users/YOUR USER/AppData/Roaming/.minecraft/mods".
Additionally, have a glimpse at the Forge Profile and there you will see the installed modification.
If it is not appearing there then you will need to restart Minecraft, it will hopefully fix this issue.
Easy Peasy Lemon Squeezy, there you have it.
The Most Noteworthy thing is that we are fully determined to provide an extremely safe environment and put our full energy in it. We also know the problems of the community because they are eagerly searching for the latest releases. But we have to make one thing clear right here that the content will only be available right after release. There is no way that a user can get the mod before the release unless it's fake. So we want to inform you that please be patient for the official release in order to get the amazing experience of Minecraft. We hope you will have a brilliant time playing Minecraft.